I8 Trapezoidal iPad Photo Booth | App(manual/voice/music) Control RGB Light | 360SPB®
People
are viewing this right now
● 5 Years Warranty, Free Shipping, Free Logo Design
● Life-Long Service, Phone & Video Calls Available
● 103 Reviews & Trustscore 4.8 on Trustpilot (No. 1 in the industry) 
● Over 600 videos on YouTube
● Join Our Affiliate Program and Earn $10,000 per month
Halloween Sale -  $50 Off Code: iPad50
Hurry up! Sale Ends in
%-D
%!D:Day,Days;
%-H
%!H:hour,hours;
%-M
%!M:min,mins;
%-S
%!S:sec,secs;
Frequently Bought Together
Description
The 360SPB I8 iPad Photo Booth is an exceptional addition to the world of photo booth experiences. Its unique trapezoidal-shaped body catches the eye, but what truly sets it apart is its dynamic RGB lighting system that can be conveniently controlled using either a remote control or a dedicated mobile app.
The versatility of the app control is truly remarkable. It offers three distinct modes to create a mesmerizing lighting spectacle. First, there's manual control, which provides precise adjustments, ensuring the lighting is tailored perfectly for your photos. Then, there's voice control, which adds an interactive element, allowing you to change lighting with simple vocal commands. Lastly, music control syncs the lighting effects with your favorite tunes, transforming any space into a visually stunning display.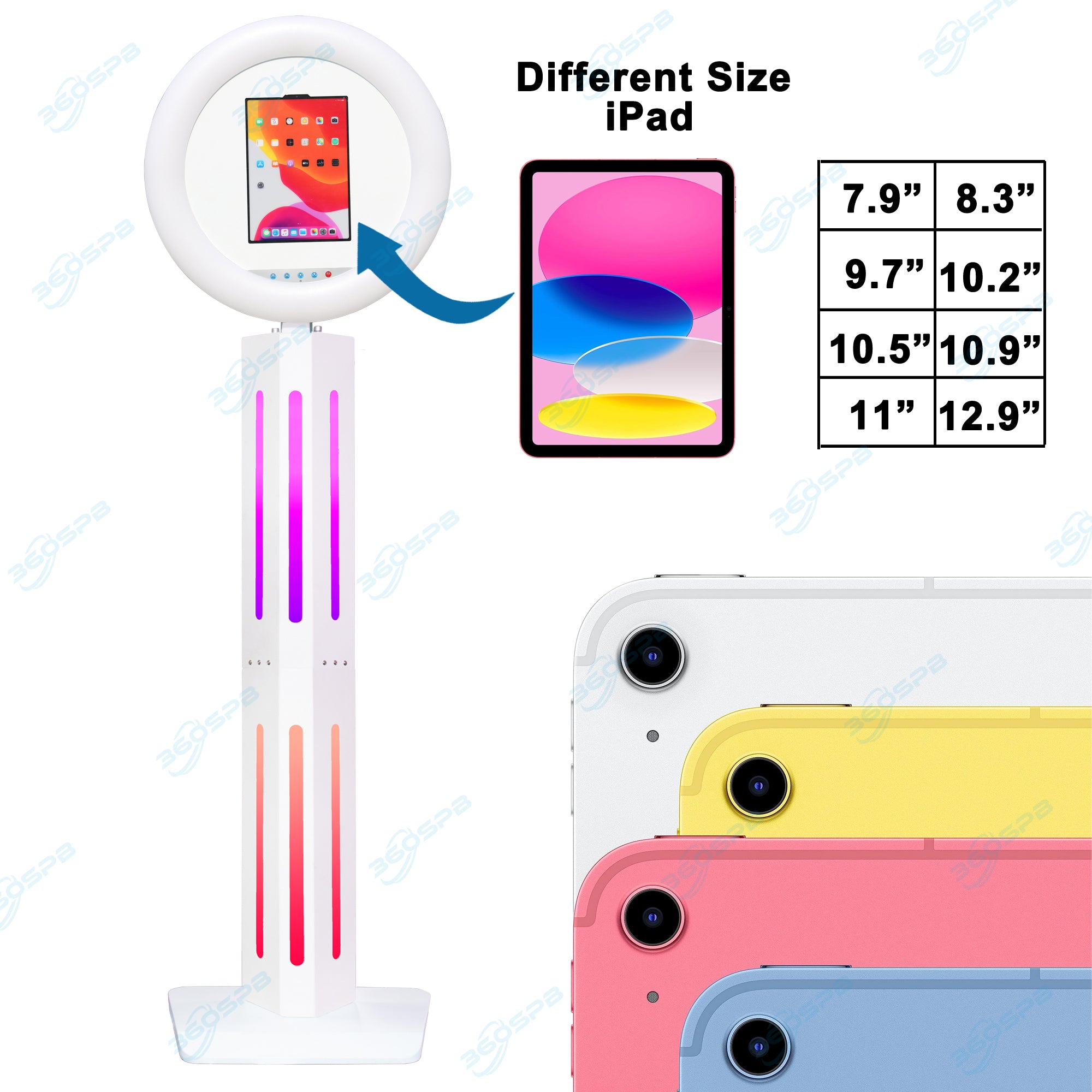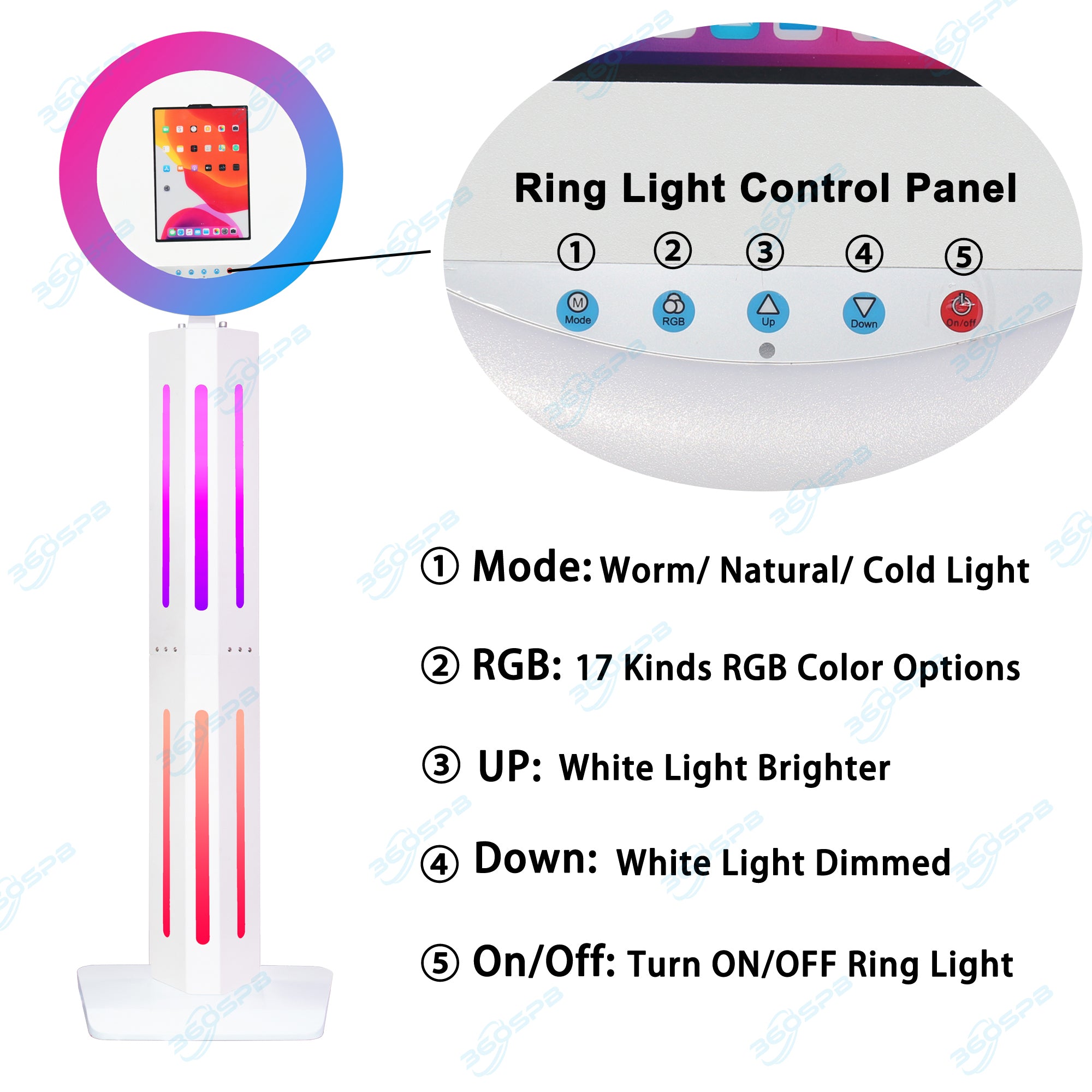 On the other hand, iPad Photo Booth is a remarkable application and hardware solution that seamlessly blends the traditional photo booth experience with the cutting-edge technology of the iPad. It empowers users to capture selfies at various events, including weddings, parties, corporate gatherings, and trade shows, and conveniently print these memories to cherish.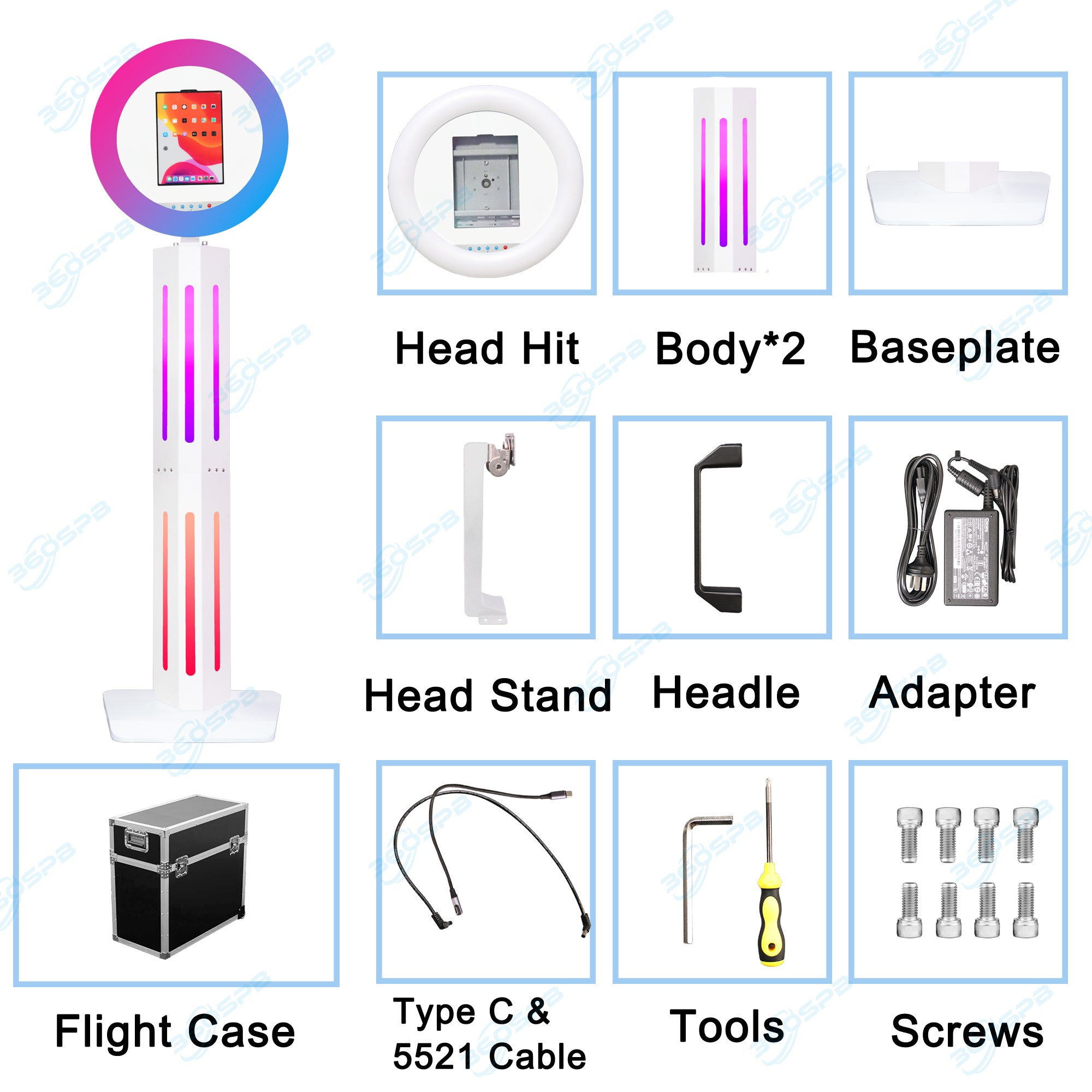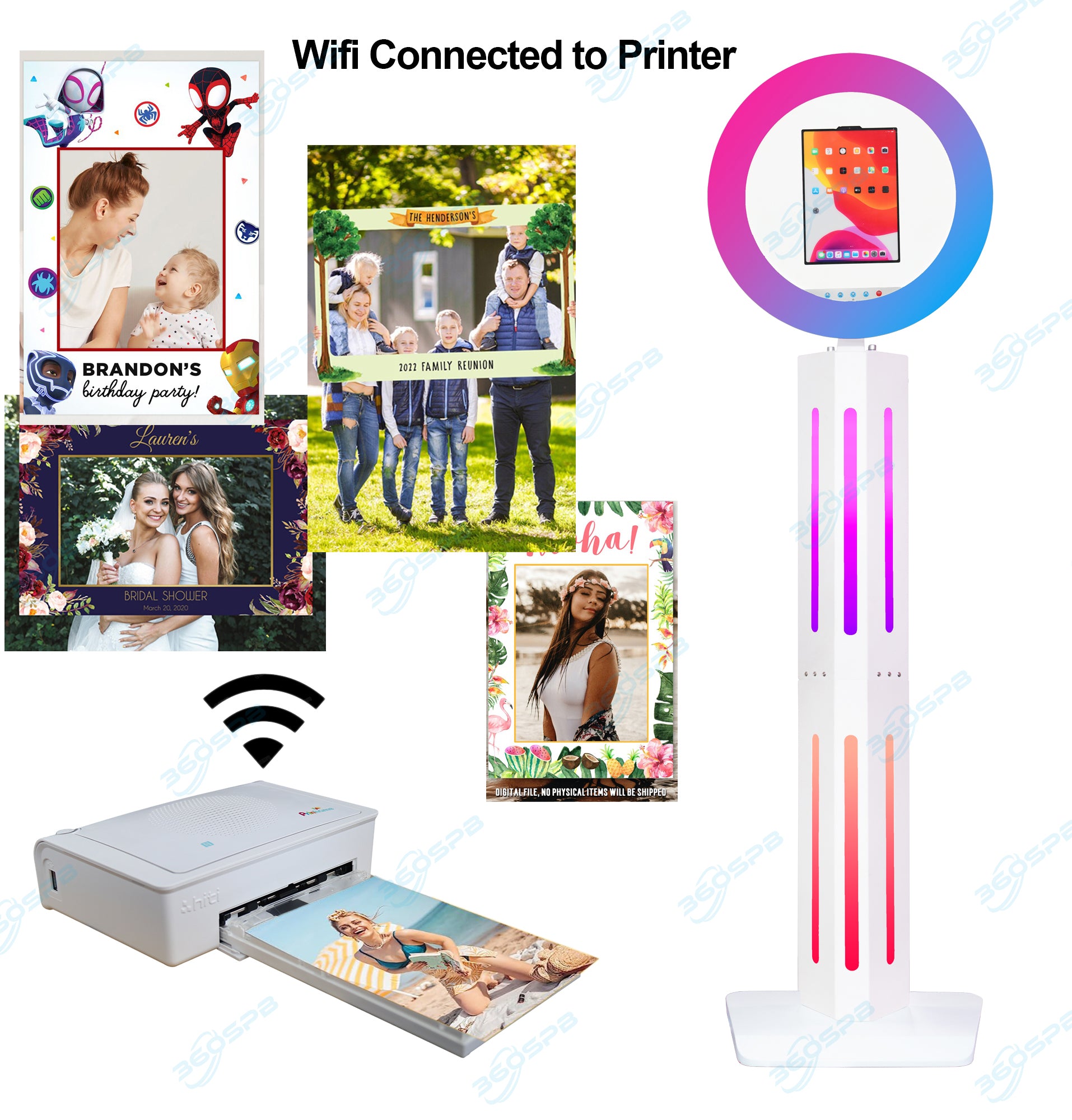 Some of the key features of iPad Photo Booth include the ability to snap selfies using the iPad's front-facing camera with the option to add creative filters and effects for added fun. It also provides robust photo editing tools, allowing users to fine-tune and edit their captured moments. The integration with printers allows users to obtain physical copies of their photos.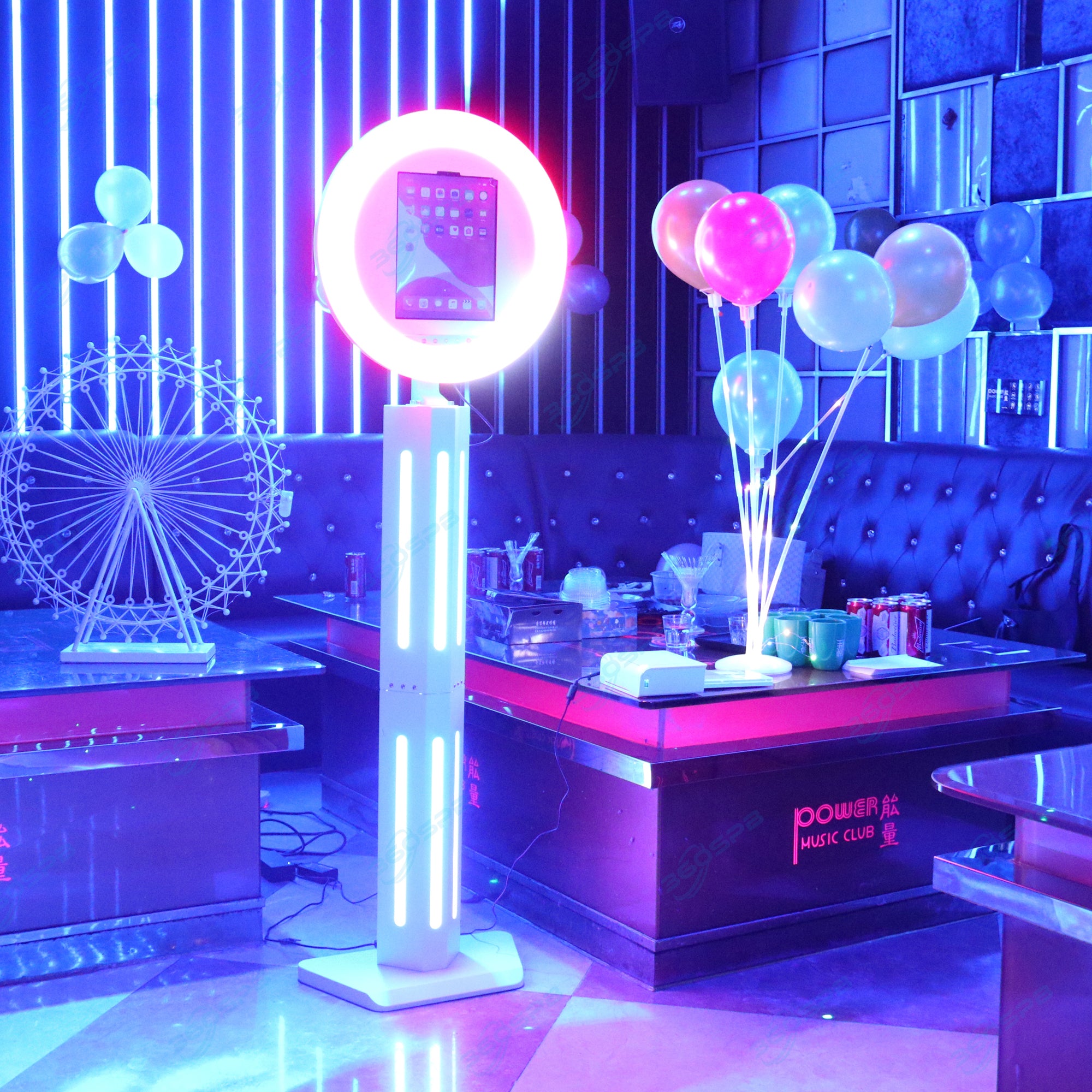 Moreover, the social sharing feature enables users to effortlessly share their photos on social media platforms or send them via email, extending the reach of memorable moments. The user-friendly interface ensures that anyone can easily navigate the system to capture, edit, and print photos. Additionally, for corporate events and trade shows, iPad Photo Booth can be customized to align with the event's branding, creating a cohesive and memorable experience.
Furthermore, the data collection capability is invaluable for corporate events, enabling the gathering of participant information for future marketing or follow-up purposes.
In essence, the 360SPB I8 iPad Photo Booth and the iPad Photo Booth application and hardware solution represent the perfect blend of modern technology and the timeless joy of capturing and sharing memorable moments. Whether it's a lively celebration, a formal event, or a marketing activation, these photo booth solutions offer a versatile and immersive experience that leaves a lasting impression.
Trustpilot Reviews
Please check 360SPB trustpilot reviews by click the blow image and post your comment if you're satisfied with our products and service.
I8 Trapezoidal iPad Photo Booth | App(manual/voice/music) Control RGB Light | 360SPB®
$1,699.00
White